LendingMetrics are delighted to announce their sponsorship of the 2018 Lending Summit being held at the Hilton London Bankside on the 8th November.
The event encompasses three conferences comprising the Alternative Finance Conference, Commercial Finance Conference and the Mortgage Lending Conference.
Topics under discussion include
Open Banking for mortgages
Beating the banks: Keeping growth culture in a rapidly scaling organisation
Risk, rate, product or profit: Margins and mortgages
Credit risk via man and machine
Using technology to enhance the broker channel to market.
…and much much more.
LendingMetrics will be showcasing the lasted updates to our enormously successful and award winning Auto Decision Platform ADP, alongside our eagerly anticipated Open Bank Vision (OBV).
ADP has received some significant upgrades making it even faster, easier to use and more feature rich than before. Meanwhile, having recently secured our FCA Open Banking permissions, we can now officially on-board OBV customers and look forward to talking with many of you about how this free service can enhance your customer acquisition and underwriting process.
For those of you who have not yet confirmed your attendance we strongly recommend that you take a look at the agenda below as there appear to be a huge number of highly relevant subjects for all spheres of lending.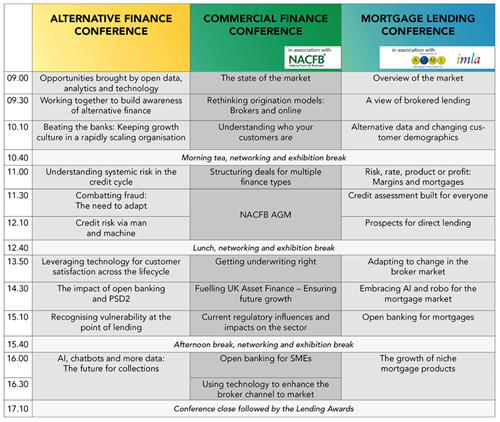 If you don't think you can make it then bear in mind that our team will be at the Collections, Debt Sale & Purchase Conference in Manchester just a couple of weeks later on the 21st November.
Either way, we look forward to catching up soon.
#LendingSummit #OpenBanking #LendingMetrics