Open Banking is now a reality and its set to revolutionise the credit industry, especially credit assessment. Access to such data will facilitate better affordability checks and will help identify fraudulent applications as well as potential customers who are already in financial difficulty. But the sheer volume and granularity of the data is exciting and daunting at the same time, and having underwriters poring over bank statements is expensive and time-consuming. So the only way to truly leverage the Open Banking revolution for your business is with automation.
But automated credit decisioning is a potential minefield:
Loan Management Systems (LMS) often provide woeful automated decisioning functionality;
In-house solutions are expensive to build and maintain;
Dedicated systems cost the earth.
Bold statements! but they are based on my 30 years in financial services, the last 10 of which have been the owner of a credit reference agency and technology company.
So here's some of my evidence.
The problem with loan management solutions
Almost without exception I have witnessed lender after lender complaining about the lack of autonomy when it comes to the decisioning module of the LMS they are using (that's if one even exists) They tell us that changes are controlled by the LMS provider, are slow to action, expensive to deliver and often the changes are deployed incorrectly, only to be rolled back in order to try again. The pain to the business is enormous, lost new business and management time and of course the eye watering costs from the LMS provider. No wonder firms look for alternatives.
Why not build it in-house?
It sounds like the obvious solution and for some firms it certainly works. It requires a huge investment to build in-house, and an ongoing financial commitment to support, maintain and develop proprietary software. It certainly provides autonomy to the business but there are major drawbacks to consider: 
In-house I.T staff are expensive and they will be required in perpetuity to build and then support the solution, so this is a hidden cost which should not be overlooked;
Domain knowledge will inevitably be in the hands of those very same I.T staff and therefore the business must consider the risks associated with those domain experts leaving the business (or indeed the costs to keep them);
In-house solutions usually lack the comprehensive feature rich and intuitive benefits of a dedicated 3rd party solution.
So it has to be a dedicated solutions?
This is by far the most effective way to deliver a sustainable decisioning solution to your business. Dedicated solutions are usually very feature rich, comprehensively integrated with CRAs and other data sources, well supported and extremely secure. So that's it, a dedicated solution is the way to go, except for………the price! Engage with any recognised provider and when it comes to commercial discussions you begin to wonder whether they are giving you the price, or their telephone number. This is why so many lenders are either "making do" with their woeful LMS decision engine, or looking to build their own solution. They simply cannot understand why it should take hundreds of thousands of pounds to simply implement the solution and then hundreds of thousands more each year to support!
The Market Disruptor
A badge we wear with honour!
We are not swayed by what our competitors do, or what they charge "simply because they can" or "because that's what lenders expect to pay". We focus on what our business model requires us to charge in order to deliver a market leading product at a fair price.
Following 4 years of R&D we launched our award-winning Auto Decisioning Platform at the beginning of 2017 and it is now in use in scores of lenders across the UK, executing millions of decisions every day and doing so at a fraction of the cost to that of our competitors.
But cost is not the only reason for our popularity, we have previously been involved with lending technology as lenders and for the last 10 years as software providers, and that means we understand the challenges faced by our customers and therefore what solutions they require to succeed, such as:
Comprehensive integrations with all the major CRAs;
100% autonomy and control over the decision engine build/edit/deployment via a comprehensive user interface;
No I.T involvement required, just operational/credit risk experience and product training;
Live champion/challenge or retro analysis of data;
Detailed reports to monitor activity in real-time…. And so much more!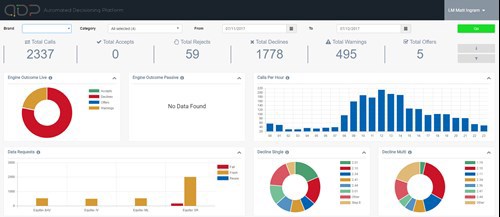 Backup, Support and Pedigree
LendingMetrics is an FCA regulated CRA, we are ISO 9001 / 2015 and 27001 certified. Our SAAS solution is deployed to servers located at multiple secure data centres within the UK and all of our technical personnel are background checked and located in the UK. We provide 24 hr support, initial and ongoing training and we have a long and very exciting development road map for ADP
If you are still not convinced, we'll happily share with you a wide range of named case studies and testimonials and we'll even arrange for you to talk to our existing customers.
The Best bit
There are NO UP FRONT COSTS OF ANY KIND!  No build fees; No implementation fees; No initial license fees. Nothing! Nada! Niente!
We will gather your requirements, project manage your build, deliver your inaugural engine fully finished and ready to go and we'll provide comprehensive training, all without any cost to you.
We're building long term relationships and partnerships with our customers and that is why we invest all of this effort to deliver ADP without charging you a penny. Instead, our model is based upon a manageable monthly license fee.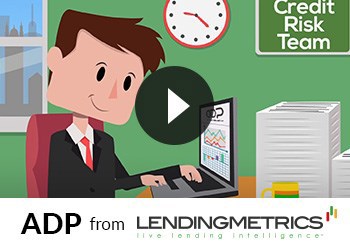 We dare you!
So whether you are looking at automated decisioning for the first time, or you are looking for a better alternative to your current solution, we dare you to look at ADP by LendingMetrics. Arrange a free demo today, what's the worst that could happen?
Click here to make an enquiry or call us on 02394 211010
This post was also featured on the Credit-Connect website