LendingMetrics is pleased to announce it has been awarded 'Best Credit Data and Risk Technology Solutions Agency' within SME News' Business Elite Awards.
The 2022 Business Elite Awards winners were handpicked by SME News' industry experts and are based on comprehensive analysis and research undertaken by the wider group, providing a showcase of the very best companies in each respective field awarded on merit, not popularity.
This recognition follows the award of 'Best Credit Reference Agency 2021' from last year's Business Elite Awards, and continues LendingMetrics' established presence as an industry-leading business who are moving from strength to strength. They were recently recognised as a 'Premier Power Company 2022' for the Credit & Collections Technology Awards Company Power List, topping their previous year's performance by moving up the league table to the number one position, and 'Credit Reference & Information Solution' at the Credit & Collections Technology Awards 2022 (for the fifth year running!), among other recent accolades.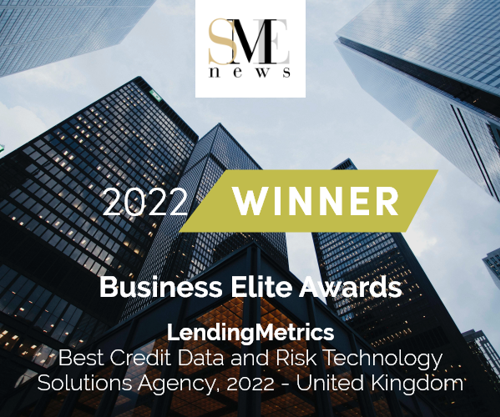 Find out what makes LendingMetrics a multi-award-winning company by learning more about our products ADP, OBV and LMX and get in touch today!