Ethical lender voted the nations favourite at Consumer Credit Awards with hat-trick win
West midlands based ethical lender Fair for You CIC scooped up three prestigious accolades at 2019's Consumer Credit Awards and was voted the nation's favourite credit provider with; Firm of the Year, Treating Customers Fairly Champion and Customer Service Champion – the only company to receive a triple whammy on the night.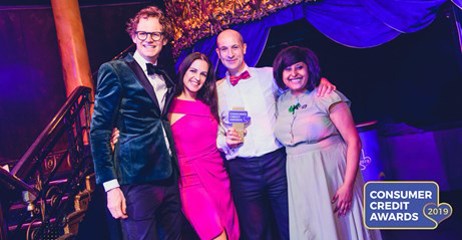 Fair for You were also joined in their success on the night when the supplier of their ADP credit decisioning technology, LendingMetrics, also scooped the Innovation award.
The Consumer Credit Awards were formed in 2017 and put customers at the heart of the industry by helping them find the best credit providers in the UK. Their mission is to increase trust and transparency in the industry by delivering the only consumer credit awards voted for by consumers, and 'not industry experts'.
Since founded by Angela Clements in 2016, Fair for You has consecutively been awarded at the Consumer Credit Awards and is the only company to receive double-whammies each year - beating some of the UK's largest consumer credit businesses.
Angela Clements; founder and CEO commented,
'I am so proud that we are recognised by the Consumer Credit Awards, the only awards voted by our customers. For the team at Fair for You, these are the only awards that mean anything.'
'We find that our customers are fiercely loyal to us, largely because we are equally supportive of our customers. We were set up to provide an alternative to weekly payment stores, and we know that most of our customers will find it hard to pay every week on time, as they juggle tighter finances than ever.'
'We don't charge late fees, and we welcome customers back at any time on any payment plan that works for them whilst paying the loan. Every week we welcome customers back who have experienced difficulties or had a gap in their income as they have gone through Universal Credit roll out.'
'The roll out of Universal Credit across the country has seen our customers fall off plan but by working with our customers to devise a plan to suit their individual circumstances, we find that with a little help these customers become great customers again.'
'Our customers value credit that is flexible, tolerant and a provider that respects their situation and doesn't seek to maximise income at the toughest of times. We look forward to expanding our service tailoring small loans for a wider range of services and are absolutely delighted that Carpetright and Dunelm will be joining Hotpoint and Indesit as suppliers of services to our customers.'
'Finally, we would like to congratulate LendingMetrics for winning their award. They have been a valuable and trusted partner since 2017 and the industry recognition they are receiving is well deserved'