To mark the coming to an end of what's been a great 2019 for LendingMetrics, we're taking a stroll back through some of our favourite moments from the year.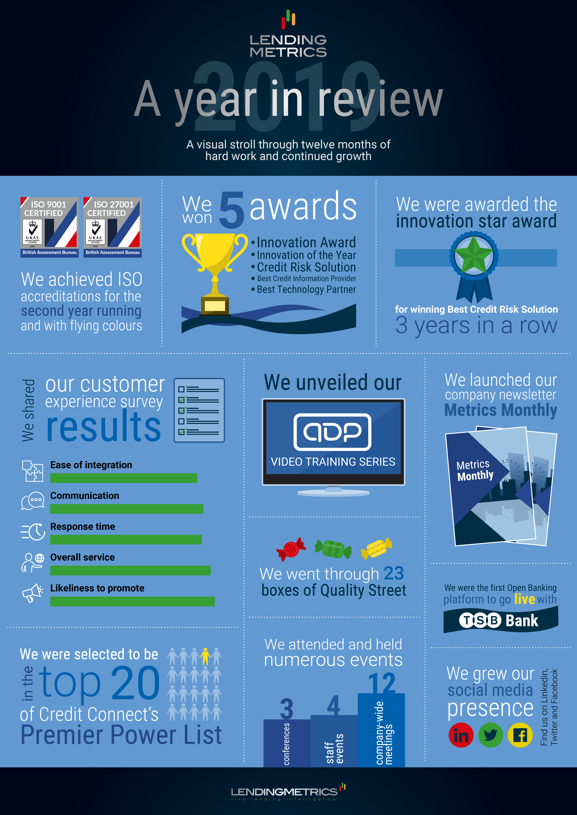 2019 saw us bring home not one - but five - huge awards, including Innovation of the Year at the Consumer Credit Awards for our ground-breaking Auto Decision Platform.  The word 'innovation' seemed to become firmly synonymous with LendingMetrics, aas we were also awarded the Innovation Star Award at the Credit & Collections Technology Awards for having been crowned Best Credit Risk Solution for three years running. What's more, we were delighted to be listed in the top 20 of Credit Connect's Company Power List, which features the top-performing companies, highlighting those truly dedicated to innovation.
Attending and hosting events was an important part of our year and we've got numerous plans for 2020 and beyond. Among other events, our Business Development team enjoyed hosting an exhibition stand at Credit Strategy's Lending Summit, which was a great opportunity to meet with a range of credit professionals in the industry ahead of the Lending Awards in the evening. Our UK team's highlight of the year was undoubtedly the LendingMetrics Christmas party, which was a brilliant way for staff to let their hair down after a busy and triumphant year, as well as for the Senior Management team to thank staff for all of their hard work during 2019. Head of Operations Paul Brown commented: "The Christmas party was an excellent event and a great way to celebrate the achievements of 2019 as a team. We are all looking forward to seeing what 2020 brings!"
One of our favourite launches of the year was the ADP Video Training Series, which is available to all ADP contract holders at no extra cost. We know that training should never be an afterthought, and that's why with every Auto Decision Platform contract, you will receive hours of custom-made training videos direct from our ADP experts. With 24/7 access, you can master ADP at your own pace, easily review topics using its convenient chapter-based navigation, and watch online, any time, from any device. We also launched our very own company newsletter, Metrics Monthly, which provides you with a regular round-up of industry highlights, valuable insight, company updates and much more. If you haven't subscribed yet, you can do so here: Subscribe to Metrics Monthly
With so many highlights, events and achievements, it's no surprise that 2019 has been our most successful year yet, and we can't wait to see what 2020 brings!