In a race to the finish line not dissimilar to the last race of the F1 season, LendingMetrics were neck and neck in the lead up to the announcement of the 2021 Power List.
The rankings for the Credit & Collections Technology Awards Company Power List have finally been announced, and it was a close race to the end, according to news provider Credit Connect. Now on its third edition, the Power List was published in the 2021 Awards Review and is a round-up of the most prominent innovating companies within credit and collections technology, recognising companies for the progression of industry standards and excellence. LendingMetrics achieved the number one ranking on the list league table, knocking conversational platform provider Webio off the top spot on the podium. 


Below: LendingMetrics takes the top spot on the league table, up one place from their second position on the 2020 list.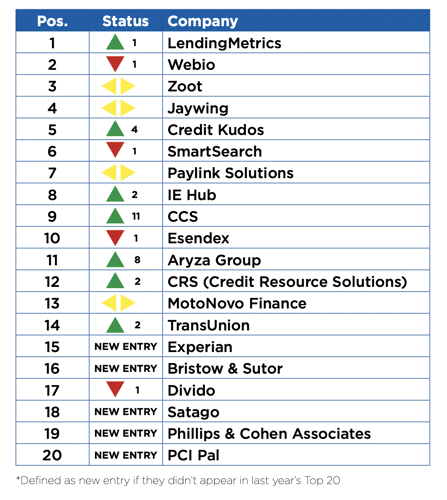 The intelligent software provider also won the Credit Reference & Information Solution accolade at the awards hosted last month, marking the fifth year in a row the company has walked away victorious. Judges for the awards praised the company's pioneer platform Auto Decision Platform (ADP) for its "uniqueness" and "great innovation". This, along with the fact that they were also shortlisted for three other categories at the awards, meant LendingMetrics gained the number one spot on the Power List's league table for the first time, echoing a successful year for the company.


Below: Head of Sales Claire Januszczak was presented with the Credit Reference & Information Solution award at the 2021 event.
About the list, Credit Connect founder Colin White said: "The annual guide provides a snapshot of the technology innovators within credit and collections – it showcases who is leading the way with innovations and have backed up their status by entering the awards. All the companies listed have provided solutions that have helped to enhance the best customer outcome through lending or collections processes."
To find out more about why LendingMetrics is fast becoming one of the industry's most innovative and disruptive technology providers, get in touch today!